The Situation
With a philosophy to work with the land, not against it, the aim of the building was to create a structure that blends into the surroundings in a natural and low-profile way.
The unique bush block in Castor Bay, provided a blank canvas for the Scandinavian inspired home. The property needed a building, that used the space wisely, maximized the sunlight hours' available and had a modern style roof to match.
The Challenge
There was the need for the roof to have sharp, clean lines to enable the bedroom pod to fit comfortably underneath the tree canopy. Similarly, it was essential to harness as much sun as possible, as the house was encompassed by native bush.
Both space and sunlight factors needed to be considered and a steeply pitched roof didn't seem to be suitable, so an alternative was sought out.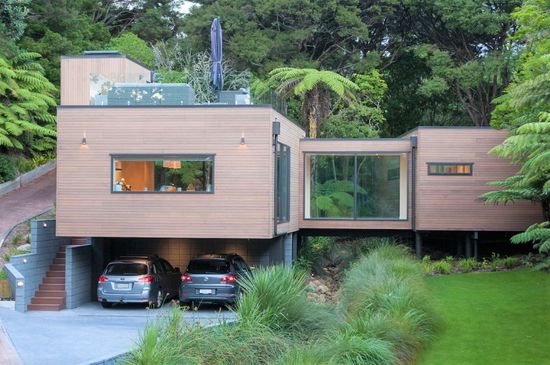 Warm roof solutions from Nuralite are an excellent option for a sustainable and effective way to create an environment that looks after people and the planet.
We wanted a home that complemented its surroundings by being as natural and low-profile as possible.
Correct design, detailing and specification of waterproof sheet membrane roofs and other surfaces has always been supremely important to ensure durable, low maintenance performance.
The Solution
Choosing a flat roof and our Nuraply 3PM system proved to be the perfect solution to overcome the challenges involved in this project. The flat roof enabled the house to nestle under the tree canopy, thus positioning the home in way that wouldn't have been possible with a pitched roof. Sunlight hours were also gained in an innovative way through the addition of a roof top deck. This feature that was both stylish and efficient adding an extra 60m2 of outdoor living.
The roof top deck consisted of the Nuraply 3PM double layer system incorporating Nurajack pedestal support. Nurajacks are designed to support the timber joists and decking over top of membrane decks in accordance with the building code E2. The self levelling head of the Nurajack enables the deck to be completely level, even when the membrane roof is at a fall of up to 5 degrees.
By using the Nuraply 3PM membrane and Nurajacks, the builders were able to overcome any challenges faced and helped the owners achieve their dream home in Castor Bay.