The Situation
Hidden amongst the bush of the Greenhithe hills sits The Knoll, a contemporary home many years in the making. Originally brought in the 1950's, the land that the modern abode now sits on was purchased by the owner's grandfather.
In a prime location, the site has an unobstructed view of the Waitemata harbor, privacy in the form of native bush and close proximity to the Upper Harbor Highway. Hoping to transform their lot of paradise into the Frank Lloyd Wright inspired house of their dreams, they enlisted the skills of Megan Edwards Architects to bring it to life.
The Challenge
Wanting a symbiosis between the land and the structure, the architect sought to create a sanctuary away from the hustle and bustle of the city life in the form of a family retreat. With muted earth tones, strong lines and sustainable materials, The Knoll began to come to life.
Nuralite were brought on board to provide a low-profile roofing solution for the project. As the roof could clearly been seen from the driveway, the request was made to have an aesthetically pleasing roof line and use materials that were attractive and durable.
Using a Nuratherm Warm roof system and tapered boards for the roof edges, a unique curved look was achieved. The 100mm PIR boards with an R-value of 4.5, ensured there was no thermal breaks in the roof and provided efficient thermal performance throughout.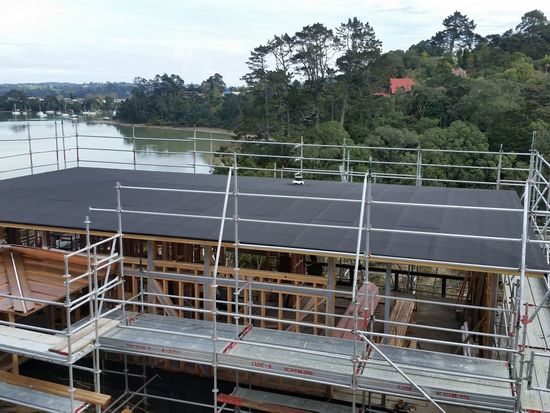 Warm roof solutions from Nuralite are an excellent option for a sustainable and effective way to create an environment that looks after people and the planet.
We wanted a home that complemented its surroundings by being as natural and low-profile as possible.
Correct design, detailing and specification of waterproof sheet membrane roofs and other surfaces has always been supremely important to ensure durable, low maintenance performance.
The Solution
Being energy conscious and sustainably minded was an integral part of the design from Megan Edwards. Products were chosen because of their longevity and ability to futureproof the home. The owners wanted to save on power usage and heating costs every year, so selecting a Nuratherm Warm roof meant they could maintain a steady internal temperature and rely less on electricity to heat and cool the building.
Nuraply 3PT/3PTM was also specified for the tanking and footings on the project. The block wall waterproofing ensured that there was no water ingress through the basement as the house was build into the hill, using the right tanking systems meant the house was watertight underneath as well as on top.
Surrounding the home the owners also wanted a large deck to wrap around the front and sides. Nurajack decking pedestals were used in combination with tiles create the perfect space for outdoor entertaining.
Nuralite was happy to work with the architect and provide a range of suitable solutions for The Knoll. With our waterproofing, insulation and decking systems, we offer technical advice and bespoke detailing with no project too big or small.